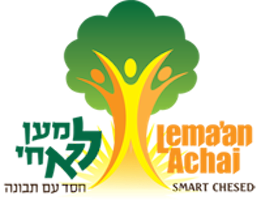 Lema'an Achai envisions making a significant dent in poverty in Israel. We endeavor to help people restore their economic independence. Our vision is realized through professional programming designed and implemented to restore hope, resolve problems, build confidence, identify strengths, sharpen skills, and direct clients to gainful enterprise.
Books By Rabbi Yaacov Haber:
I'm feeling okay about the nine days this year. Even Tisha B'Av! That may sound radical, so let's explain why. The Talmud (Yoma 5) describes a scene toward the desecration and destruction of the Beis HaMikdash by the Babylonians. According to the Medrash in Eicha, a...
read more
Some years ago while serving as a Rabbi in Buffalo, New York I remember standing at my place in Shul, Sunday morning, seeing the large oak door to the Shul open a crack. There at the door was an elderly woman, a member of the congregation, who was motioning for me to...
read more
subscribe now
to get the WEEKLY DVAR TORAH and more!